Posted by Tamara Pursley on Jan 22nd, 2018
Update on Tax Reform
In late December, The Tax Cut and Jobs Act (TCJA) was signed into law.  The final bill contained some concerning provisions, such as the repeal of the Individual Mandate of the Affordable Care Act and a predicted $1.5 trillion in the federal deficit, which may lead to massive cuts to Medicaid through entitlement reform. NDSC will continue to advocate against Medicaid cuts, per capita caps and block grants and will keep you informed as entitlement reform efforts progress.  HERE is an analysis of the final bill as it relates to the disability community written by our colleagues at the Center for Public Representation.
Withdrawal of Olmstead Employment Guidance
NDSC is very concerned by recent removal of Olmstead employment guidance by the U.S. Department of Justice. This guidance had detailed the obligations of states to administer their employment services for people with disabilities in the most integrated setting appropriate. We are confident that removal of this guidance does nothing to change the actual law and surrounding case law. However, we believe it reflects a diminished concern for providing employment services in the most integrated setting. NDSC signed onto a statement jointly issued by the CCD Rights Task Force and the Collaboration to Promote Self Determination (NDSC is a member of both) to express these concerns and call for more transparency in the guidance repeal process. (Click HERE)
RAISE Family Caregivers Act on Its Way to Becoming Law
Good news! The Recognize, Assist, Include, Support, and Engage (RAISE) Family Caregivers Act (S. 1028/H.R. 3759) has passed both the House and Senate with bipartisan support and is on its way to the President's desk for signature. This bill would require the Secretary of Health and Human Services to develop, maintain and update a national strategy spanning public and private sectors to support family caregivers. The strategy will encompass things such as care coordination, training support, education, respite options and financial security issues. We are optimistic about the potential of this law to address the nationwide problem of poorly coordinated supports for caregivers. For a detailed summary of the bill, click HERE.
Significant Changes to ABLE in 2018
Achieving a Better Life Experience (ABLE) accounts have been available nationwide since June 2016, and currently thirty-one states plus the District of Columbia have launched ABLE programs.  NDSC continues to be an active member of the ABLE National Resource Center (www.ablenrc.org) and would like you to note the following changes to the law that will take effect in 2018:
The annual contribution limit, formerly $14,000 per year, has been set at $15,000 for the 2018 tax year (it is tied to the federal gift tax and has been adjusted for inflation).
ABLE account owners who contribute their income to their own ABLE account may be eligible to take advantage of the Retirement Savings Contributions Tax Credit (otherwise known as the Saver's Credit), subject to certain requirements.
It is now permissible to rollover funds from a regular 529 college savings account to an ABLE account without incurring any tax or penalty. These funds are subject to the annual contribution limit of $15,000.
ABLE account owners who have employment may be eligible to contribute up to an additional $12,060 above the annual contribution limit under the ABLE to Work Act, subject to certain requirements. Note that ANRC has some serious questions and concerns about how the ABLE to Work Act will be implemented and will be seeking guidance from the Department of Treasury and other agencies to try to maximize the benefit of implementation for ABLE account holders.
To learn more about these changes, please attend a free webinar by ANRC, "Changes to ABLE in 2018," Thursday January 25, 2:00- 3:30ET. To register, click HERE.
Join us as we advocate for change!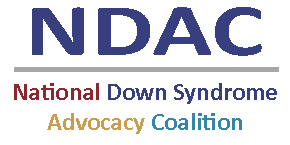 NDAC has quickly grown to a strong group of over 80 individuals and 12 groups. We would love for you to join us! Receive the latest policy updates, advocacy tools and gain close access to our policy team of experts.
Signing up is as easy as filling out an online application and making sure your NDSC dues are current. Please click HERE for more information.
Johnny Collett is Confirmed as OSERS Assistant Secretary
The Senate has confirmed Johnny Collett for the position of Assistant Secretary of the Office of Special Education and Rehabilitative Services (OSERS). You can read background information on Mr. Collett HERE and watch a video of the confirmation hearing HERE. Mr. Collett has a special education administration background and therefore will bring knowledge of IDEA and state implementation to the job of Assistant Secretary.
Prior to the hearing, HELP Committee staff reached out to NDSC for questions to ask Mr. Collett. You can read the questions we provided HERE. A few of the questions were used, but unfortunately Mr. Collett did not provide direct answers or commitments on the issues.
Federal Feedback on State Plans Under the Every Students Succeeds Act (ESSA)
In the past month the U.S. Department of Education has provided interim feedback letters to the 33 states (and Puerto Rico) that submitted ESSA implementation plans for approval in the fall. Some of these plans have received approval in the past week. You can find these feedback letters, as well as the notes of individuals selected to review these plans (peer reviewers), by clicking on your state name HERE. If the plan has been approved, you will see a link to "Approved Plan" at the top of the state page.
In its interim feedback letters, the Department requested changes to all of the ESSA plans, but states were only given a short time frame to make revisions. It is not clear whether any state requested an extension.  The due date for the revised plans is in your state's interim feedback letter. All of the ESSA plans submitted in the spring have already been approved, except for Colorado.
Application Released for States Innovative Assessment Pilots
ESSA allows the U.S. Secretary of Education to approve innovative assessment pilots in up to seven states this year. The pilot states would be allowed to experiment with competency-based, interim, performance-based, computer-adaptive and other types of testing in certain districts. The goal is to eventually scale up the piloted assessments statewide in a way that meets federal accountability requirements.
The application for this program was recently released HERE.
New Hampshire, California, New York, Hawaii and Georgia are among the states that have previously expressed interest in this program. States must submit a notice of intent to apply by February 2, 2018 and must submit the application by April 2, 2018.
Whether or not these pilots are beneficial to students with disabilities will depend on what states do with this flexibility and how they address students who take an alternate assessment. The assessments in these pilots are required to "be accessible to all students by incorporating the principles of universal design for learning, to the extent practicable." How well the states meet this requirement will be an important factor in determining whether students with disabilities have been considered in the development of the assessments.
Education Regulations at Risk
Regulations are documents that go through a specific approval process, including public input, and are binding on states. The purpose of regulations is to help inform states how to implement the laws. Guidance documents are also important tools to help states implement the laws but do not have the same binding effect, nor do they have to go through the same formal process as regulations before they are adopted or changed. We have shared information previously on guidance documents that have been rescinded by the Department of Education. We are even more concerned about the prospect of any threat to regulations.
Recently, the U.S. federal agencies were required to share the list of regulations on which they may take action in the next six months. This Fall Agency Rule List-Notice of Intent to Propose Regulatory Changes includes regulations under ESSA, IDEA and the Americans with Disabilities Act. This doesn't mean there will be changes to the listed regulations, but it is a step that agencies must take before they can make changes. In addition, before making any changes the applicable agency would have to publish a Notice of Proposed Rulemaking (NPRM) and request public comment. NDSC will monitor this process and keep you informed. You can view the list HERE.
U.S. Department of Education Monitoring Report On Denial of Special Education Services in Texas
The U.S. Department of Education, Office of Special Education (OSEP) has found the Texas Education Agency (TEA) out of compliance with IDEA, the federal special education law. In a recently released monitoring document, OSEP stated "Through interviews with TEA officials and ISD and school staff, document reviews, listening sessions with parents, comments on an OSEP blog, and review of TEA's policies and procedures OSEP has determined that TEA failed to ensure that its Independent School Districts (ISDs) properly implemented IDEA child find requirements, and consequently, failed to make FAPE available to all eligible children with disabilities residing in the State, as required by the IDEA. This failure resulted in improper reductions, over a period of years, in the number of children identified as having disabilities and needing special education and related services under the IDEA."
The monitoring report outlines corrective action that must take place to ensure that the right of a student with a disability to receive an evaluation is not delayed or denied and that the state adequately ensures compliance with the law. The monitoring report can be found HERE.
An article in the Houston Chronicle first drew national attention to a state policy that caused special education services to be denied to eligible students. The advocacy of families and organizations contributed greatly to a state law being passed to overturn the policy and to OSEP's attention to related policies that have denied students the services they need.
Want to see more of our advocacy in action?
Sign up to receive our Action Alerts! Receive timely, accurate information from the NDSC Policy & Advocacy Team and to magnify your voice. Signing up is free and takes less than one minute – simply provide your name, email, address and zip code. NDSC will not share your personal information and will use it for advocacy communication purposes only.
"Like" the NDSC Policy & Advocacy Facebook page and follow NDSC Policy & Advocacy on Twitter @policyupdates
If you like what you see, please consider making a donation to help us further our Policy Team goals.  Click here and put "Policy" in the Comments section.  Thank you!