Posted by Tamara Pursley on Dec 21st, 2017
Be sure to scroll down for the latest policy updates on tax reform and education policy
NDSC Policy Team Member Spotlight: Susan Goodman
Susan Goodman, a valued member of the NDSC for the past 17 years is retiring at the end of this year. We asked her a few questions about her journey. She will be truly missed! The impact she has made on the disability community has been incredible. We thank her for her hard work and dedication!

What prompted you to come work with NDSC 17 years ago? 
After working in many different roles in the disability field (i.e. government, law practice, non-profit agency director), I decided my skills and interest were in policy and advocacy and that is where I could be most effective.  And, I only wanted to work for a parent organization.  I had worked for NDSC writing the newsletter and the opportunity arose for a policy and advocacy person on a national level. I jumped at it.
What are the biggest policy changes you have seen in recent years? 
Inclusive Education – When I started my advocacy in the mid 70's inclusion was called mainstreaming.  Advocacy for mainstreaming was unheard of or only advocated by "kooks."  Inclusion of students in school, while still rejected by some school districts and parents, has advanced exponentially.  Challenges, particularly in "quality education" remain, and the acceptance of real inclusion is still slow.  The picture, however, is a world away from what was during that period.
Integrated Employment – Integrated employment in that era was unheard of.  However, the University of Wisconsin at Madison, led by pioneer Lou Brown, were leaders in the field.  Also, we owe a great deal to Madeleine Will who was the Assistant Secretary at the Department of Education. The Office of Special Education and Rehabilitative Services (OSERS), which Ms. Will led, made supported employment (the predecessor to competitive integrated employment) a priority and funded some sites that were implementing it.  Like any new, pioneering, idea these initiatives were met with a lot of resistance in the field.
For example, when attending a presentation by Lou Brown,  Dr. Brown told a funny anecdote about visiting a vocational center and seeing a man screwing and unscrewing bolts.  He asked what the man was doing, and the reply was "pre-voc."  He went back a few years later and saw the man doing the same thing and asked again what he was doing.  The supervisor replied "pre-voc."     I was present with two friends and fellow advocates.  Out of 300 people in the room we were the only ones that laughed.  The not-so-funny part is that there are still individuals doing the same activities in segregated settings.
We now see people working on real jobs although many challenges remain.  Huge progress has been made in this area.
Independent Living – Individuals with disabilities lived in family homes when I started my advocacy journey.  The "group home" model made its appearance after the Medicaid waiver program was instituted in the 1980's.  Prior to that, if a person with a disability lived in his or her own place, it was the parent's responsibility.  Sadly, that is still the case in too many instances.  However, opportunities now exist for people to live in their own homes with the support they need.
In my opinion, this has been one of the most revolutionary changes to disability policy during the past 40 years, since the passage of the Education for all Handicapped Children Act (EHA) know known as the Individuals with Disabilities Education Act (IDEA) in 1975.  People with disabilities are now participating in every walk of life.  Prior to enactment of this law, society at large was not accessible, physically or otherwise.  One of my wonderful mentors remarked, when talking about federally- funded vocational one-stop centers, "I don't want people just to get in the door.  I want access once they get inside."
What do you see as the biggest threats to policy related to Down syndrome? 
The biggest threat is identical to the one I faced when my son was born 40+ years ago – that society generally does not value people with disabilities.  This devaluing leads to not only lack of funding, but lack of opportunity for individuals to be included all aspects of society.
Another threat is the attitude that individuals with disabilities, especially individuals with significant disabilities, cannot make their own decisions.  With support, people can make their needs and desires known, if its verbal or nonverbal.
One of the biggest threats to the Down syndrome community is the notion that we should be advocating only for people with Down syndrome.  While there may be specific issues only affecting people with Down syndrome that need out attention, we must be very careful not to alienate all people with disabilities in our advocacy for equal opportunities.  We need all advocates and they need us. Our success to date has been our insistence that we do not sacrifice our fellow citizens for self-interest/political and personal opportunism.  We advocate for all individuals.
What impact has working with self-advocates had on you? 
Self-advocates have been my link to reality.  They tell me what is important to them and how they want to be treated.  They have been my most influential advocates and co-workers.
Which self-advocates have been most influential in working with?
I have met so many self-advocates in NDSC that have made a huge impact.  I have loved working with the self-advocate board members.  To date, I have worked closely with Daniel Chaplin and Chris Bennett.  They have such a valuable message for us.
Others in the disability community include Ari Neiman, Samantha Crane and Julia Bascom from the Autisitic Self Advocacy Network.  I wished I would have had their guidance when my son was born.  Also, Liz Weintraub from AUCD has had an amazing impact on colleagues, legislators and legislative staff.
What advice would you give to advocates today?
"Be willing to compromise, but never compromise your values."- Susan Goodman
Tax Reform Bills Update
With the Congress preparing to go on winter break shortly, there is a big push to get tax reform done in the next week. The House and Senate each passed their own version of the Tax Cuts and Jobs Act, both of which contained provisions that will be harmful to people with Down syndrome and other disabilities. (NDSC Policy & Advocacy Director Heather Sachs elaborates on these concerns in a recent podcast for Down Syndrome Affiliates in Action HERE) Both versions were then sent to a "conference committee" of Senators and Representatives to develop a final bill that will have components from each version. NDSC signed onto a letter with the Consortium for Citizens with Disabilities opposing the tax bills (HERE).
It was recently announced that an agreement had been struck by the Republican members of the conference committee on many major issues, so they are close to having a final bill and will likely push for a vote next week. (See HERE for list). While we have not yet seen the final version of the bill, and we are relieved to hear that certain deductions such as the medical expense deduction will remain intact and there will be some health insurance market stabilization put in place. However, we are still greatly concerned that these tax cuts will increase the deficit by $1.5 trillion dollars over the next decade and that the individual mandate under the ACA will be repealed, causing millions of people to lose insurance and premiums to increase.
The proposed tax cuts along with the repeal of the ACA individual mandate will increase the demand for Medicaid, decrease the funds available for home and community-based services and supports, and reduce the amount of revenue available to states to support Medicaid. In 2018, we will see another attack on Medicaid, as Congress works to pay for the deficit increase and convert Medicaid into block grants or per capita caps (HERE). Rest up and brace yourselves for more advocacy fights ahead.
Although it is likely that this dangerous tax bill will pass, our work is not done. One thing you can do to make sure that the voices of the disability community are not silenced is to participate in NATIONAL DISABILITY CALL-IN DAY on MONDAY DECEMBER 18. Join thousands of other advocates nationwide in calling your elected officials to urge them to vote NO on the tax bill and register your concerns about the impending Medicaid cuts that will result from the bill's passage. Click HERE to register and get talking points. Please share on your social networks and let's make some noise!
ABLE to Work Bill Concerns
To date, thirty states have launched ABLE programs and ABLE accounts are available to qualified people with disabilities nationwide. NDSC has been working along with the rest of the disability community for nearly a decade to pass the federal Stephen Beck Jr. Achieving a Better Life Experience (ABLE) Act and subsequent state ABLE bills. NDSC, a member of the Financial Security Task Force for the Consortium for Citizens with Disabilities, is also a founding member of the ABLE National Resource Center (www.ablenrc.org) and NDSC Policy Director Heather Sachs also serves in a dual capacity as the Senior ABLE Adviser for the ABLE National Resource Center. NDSC is very engaged on ABLE and has a high level of expertise in this area.
In April 2017, three ABLE "improvement" bills were re-introduced in Congress: (1) the ABLE Age Adjustment Act; (2) the ABLE to Work Act; and (3) the ABLE Financial Planning Act. See HERE for details of these bills. NDSC supported all three of these bills. Unfortunately, our position on the ABLE to Work bill has now changed and we are opposing the bill.
Last month, both the ABLE to Work Act and the ABLE Financial Planning Act were attached to the Senate version of the Tax Cuts and Jobs Act. The Financial Planning Act would allow people to rollover a regular 529 account into an ABLE account. The ABLE to Work Act would allow individuals and their families to save more money in an ABLE account if the beneficiary works and earns income. Specifically, in addition to the current $14,000 annual contribution cap, an ABLE beneficiary who earns income from a job could contribute additional funds from his/her compensation up to the amount equal to the Federal Poverty Level, which is currently at $11,770 (potentially increasing allowable annual contributions to $25,770). It is important to note that beneficiaries (who can contribute to their own ABLE account under current law) would still be subject to the caps related to earned income and substantial gainful employment (SGA). This bill would not allow individuals with disabilities the ability to disregard earned income (even if it is contributed to their ABLE account) for purposes of eligibility for SSI and Medicaid.
Shortly after it was attached to the Senate tax bill, the ABLE to Work Act was amended to address the administrative concerns of ABLE program administrators in order to remove the requirement that they provide safeguards against ABLE accounts receiving extra contributions beyond the annual cap (currently $14,000). NDSC, along with many other national disability groups who have analyzed this amendment and worked on ABLE issues, believes that the amendment would result in additional administrative responsibilities on people with disabilities and create unnecessary complexities. We believe that the current language, if passed, would leave individuals with disabilities, who are ABLE account owners, in a much more vulnerable position with respect to the loss of vital supports and services provided by various means tested programs. This is in complete contrast to the very intent of the ABLE Act, so NDSC has changed its position and now opposes the ABLE to Work Act. For more details, please see this letter from the CCD Financial Security Task Force HERE.
Now accepting NDAC Applications! Join the over 75 individuals and groups already advocating with us!
The National Down Syndrome Congress (NDSC) is thrilled to announce the launch of a new nationwide grassroots advocacy program, the National Down Syndrome Advocacy Coalition (NDAC). NDSC provides this service to educate its members and allies about policy issues and provide them advocacy tools and techniques they need to effectively engage with their legislators to advocate for change.
Led by NDSC's Policy and Advocacy Team, NDAC consists of three types of members: Members, State Leaders, and Group Members.  NDAC Members are volunteer advocates of all abilities and levels of advocacy experience. NDAC State Leaders are NDAC Members who have advanced advocacy experience and will serve in a volunteer capacity as NDSC's main grassroots organizers for their states. State Leaders will be selected by NDSC staff through a rolling application process starting in January 2018.
NDAC Group Members are local, statewide or national groups that are Down syndrome-specific, cross-disability, other disability-specific or other allies who are interested in working together with NDAC on outreach, messaging and sharing information. This category of membership is primarily for informational purposes to educate NDAC Group Members about policy issues and to expand the reach of NDAC'S outreach and advocacy efforts through collaboration with other groups.  NDAC Group Members are not obligated to undertake any advocacy activities on behalf of NDAC, though NDAC will provide them with templates and resources should they choose to push out certain information and messages to their group's membership.
NDSC is currently accepting applications for NDAC Members [HERE] and NDAC Group Members [HERE]. Please email lauren@ndsccenter.org with any questions. NDSC will begin accepting applications for NDAC State Leaders in January 2018. All NDAC Members and State Leaders must be members of NDSC. Please visit Frequently Asked Questions for more information. We hope you will join NDAC and help us to fight for equal rights and opportunities for people with Down syndrome.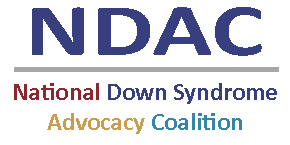 NDSC and the State of the Art Conference
NDSC is pleased to have once again supported the State of the Art Conference on Postsecondary Education and Individuals with Intellectual Disabilities. The conference took place in November at Syracuse University and was a resounding success! A concurrent Student Leadership Conference attracted college students with ID from around the country. NDSC Senior Policy Advisor Stephanie Smith Lee serves on the Executive Committee and spoke at the conference. NDSC Past President Marilyn Tolbert and Program Director Jolie Ganley attended. Click HERE to see the conference powerpoints and other materials.
Post-secondary Education for Students with ID and Reauthorization of the Higher Education Act
NDSC has long advocated for post-secondary opportunities for students with intellectual disabilities (ID), including advocating for the provisions in the Higher Education Opportunity Act of 2008 that authorized, for the first time, financial aid, model programs called TPSIDS, and a National Coordinating Center. Since then, post-secondary education options have increased substantially, with over 260 programs listed on www.thinkcollege.net.
Republicans introduced the Promoting Real Opportunity, Success, and Prosperity through Education Reform Act" (the "PROSPER Act"), H.R. 4508, to reauthorize the Higher Education Act (HEA). NDSC strongly supports the bill introduced by House Democrats, the Improving Access to Higher Education Act of 2017, H.R. 3199, which would add new disability programs to current law, new grants for Universal Design for Learning, and reauthorizes the ID provisions with improvements. See our letter urging the Committee to include this bill as an amendment to H.R. 4508. The amendment did not pass.
On December 12, 2017, the House Education and the Workforce Committee considered and "reported out" (voted to approve) H.R. 4508 along party-line votes. While NDSC is pleased that H.R. 4508 reauthorizes the ID provisions, we are very seriously concerned that it eliminates other key disability programs from current law. Read our letter to the committee Chair and Ranking Member here. This bill is expected to go the floor of the House of Representatives after the first of the year. We will continue to keep you informed about both House and future Senate action and let you know what you can do.
NDSC's Response to Department of Education's FAQ Document on Endrew F. Case
In March 2017, the U.S. Supreme Court delivered its opinion for the case Endrew F. v. Douglas County Schools District. The Court ruled that Individualized Education Programs (IEPs) must give students with disabilities more than a de minimis, or minimal, educational benefit. This is an important improvement in the standard by which free, appropriate, public education decisions must be measured. Recently, the U.S. Department of Education released a document with questions and answers regarding how Endrew F. impacts IEP team decisions. The text of the FAQ document is HERE.
The Department invited the public to submit questions and comments on the document to EndrewF@ed.gov. NDSC sent the Department an email that raises the following concerns with the answer to Question #17 on Least Restrictive Environment. If you share these concerns, please submit your own comments.
"The answer to Question #17 regarding placement does not reflect the strong preference Congress expressed in IDEA for the general education classroom. The answer discusses the requirement that there be a continuum of placement options, without the counterbalance of a discussion regarding the requirements that the general education classroom must be considered first by the IEP team and that the general education classroom is not the child's LRE only if the student's IEP cannot be implemented satisfactorily in that environment, even with the provision of supplementary aids and services. We request that this information be added to the answer, along with a reference to IDEA regulation 300.116(e), which states that a child with a disability is not removed from education in age-appropriate regular classrooms solely because of needed modifications in the general education curriculum."
Advocacy Tips for State Waiver Requests on Alternate Assessment Participation and State-Defined Alternate Diploma
The Every Student Succeeds Act (ESSA) allows for the use of an alternate assessment aligned with alternate academic achievement standards (AA‐ AAAS) for students with the most significant cognitive disabilities. ESSA also places a 1% state-level cap on the number of students who can participate in the AA‐AAAS. Specifically, the state must ensure "that, for each subject, the total number of students assessed in such subject using the alternate assessments does not exceed one percent of the total number of all students in the State who are assessed in such subject." This 1% cap equals approximately 10% of students with disabilities in most states, depending on the percentage of students with disabilities as compared to the percentage of all students who are being assessed. If a state anticipates that it will exceed this cap with respect to any subject for which assessments are administered, the state may request that the Secretary waive the cap for the relevant subject for one year. States are required to get public input on any request waiving ESSA requirements, including the 1% cap. NDSC and the Advocacy Institute (AI) developed an advocacy tips document for states in which these waivers are being requested. You can find the tips document HERE.
Some states are planning to develop a state-defined alternate diploma based on the criteria described in ESSA. Only students who take alternate assessment would be eligible for an alternate diploma. It is the only diploma, besides the regular high school diploma (the one that most other students receive), which can be counted in the calculation of graduation rate under ESSA. An alternate diploma can be a positive option for students with Down syndrome who have not been able to complete the requirements of a regular diploma, depending on whether it is done well. It should be noted that ESSA requires states not to preclude any student from attempting to meet the regular diploma requirements, including those who take an alternate assessment. Therefore, students who take an alternate assessment should not automatically be removed from the regular diploma track, even if the state has an alternate diploma. NDSC and AI Advocacy tips regarding an alternate diploma policy can be found HERE.
IDEA Significant Disproportionality Regulation
The U.S. Department of Education (Department) published the final significant disproportionality regulation in 2016. It was a direct response to the February 2013 U.S. Government Accountability Office (GAO) study showing widespread noncompliance by states with the provision in the 2004 Individuals with Disabilities Education Act (IDEA) requiring states to identify Local Education Agencies (LEAs) with significant disproportionality in areas related to special education: Identification; Restrictive Placement; and Discipline. In spite of this provision in the law, students of color continue to be identified for special education, placed in segregated classes and suspended, all at rates that are disproportionately higher than their White peers.
On October 26, Politico published a draft Federal Register notice, which had not yet been made public by the Department, seeking comment on whether to delay the compliance date for the 2016 regulation until July 1, 2020 (and postpone data collection regarding the rights of the youngest children until 2022). This draft notice suggested that the Department was considering the delay or amendment of this important regulation.
NDSC signed on to two coalition letters urging the Department not to delay or amend the significant disproportionality regulation. One letter was from the Leadership Conference on Civil and Human Rights (LCCHR). We posted a link to the sign on form for this letter on the NDSC Policy and Advocacy Facebook page because LCCHR was encouraging state and local groups to join the advocacy effort. We want to thank the groups representing students with Down syndrome who took the opportunity to be heard on this issue!  You can read the LCCHR letter HERE. The other letter was from the Consortium for Citizens with Disabilities, which is posted HERE.
We are greatly disappointed by the recent notice from the Department confirming the intention to seek comments on a proposal to delay compliance with the regulation, in spite of the level of opposition already expressed by disability and other civil rights organizations. The text of the notice of intent is below. Once the actual request for public comments is released, NDSC will begin working on a response.
"The Department seeks comment on whether to extend by two years the compliance date of these regulations from July 1, 2018, to July 1, 2020, and, if so, whether to extend the date for including children ages three through five in the analysis of significant disproportionality with respect both to the identification of children as children with disabilities and to the identification of children as children with a particular impairment from July 1, 2020, to July 1, 2022."
NDSC Provides Questions for OSERS Assistant Secretary Confirmation Hearing
On December 5, the Senate Health, Education, Labor and Pensions (HELP) Committee held a hearing on the confirmation of four appointees including Johnny Collett for the position of Assistant Secretary of the Office of Special Education and Rehabilitative Services (OSERS). You can read background information on Mr. Collett HERE and watch a video of the confirmation hearing HERE. Mr. Collett has a special education administration background and therefore would bring knowledge of IDEA and state implementation to the job of Assistant Secretary.
Prior to the hearing, HELP Committee staff reached out to NDSC for questions to ask Mr. Collett. You can read the questions we provided HERE.
Upcoming Hearing Featuring Secretary Of Education DeVos
Secretary of Education DeVos will go before the House Education and Workforce Committee on Wednesday December 20 at 2pm. This hearing is intended to examine the policies and priorities of the U.S. Department of Education. You can view a live webcast of the hearing or view an archived video of the hearing HERE.
Want to see more of our advocacy in action?
Sign up to receive our Action Alerts! Receive timely, accurate information from the NDSC Policy & Advocacy Team and to magnify your voice. Signing up is free and takes less than one minute – simply provide your name, email, address and zip code. NDSC will not share your personal information and will use it for advocacy communication purposes only.
"Like" the NDSC Policy & Advocacy Facebook page and follow NDSC Policy & Advocacy on Twitter @policyupdates
If you like what you see, please consider making a donation to help us further our Policy Team goals.  Click here and put "Policy" in the Comments section.  Thank you!